Just like that, another month has gone by. It feels like just yesterday we were talking about how October had just started. Last month we gave you 5 gift ideas to give you a headstart on your holiday shopping, and this month we've got you covered with 5 more! Whether you find the perfect gift for someone else, or something to treat yourself to, this list is sure to help spark some ideas. Check out the next 5 gift ideas from MGear below!
Okay, so maybe we covered the Gadget Wallet 3.0 already, but have you seen this thing? It's awesome! How could we not mention it again? Last month we told you some of the key features about the wallet like its customizable design and sidekick accessories, but let's talk about the less obvious benefits.
Its slim design can hold up to 5 cards comfortably. But what if you need to make room for more cards, or can't decide between our 18-in-1 multi-tool or Ultraslim USB drive? Not to worry! The wallet comes with a wide and durable band on the back that has room for any additional carrying you may need, from cards, to cash, or even your business cards!
If that weren't enough, the bands that hold your sidekick accessories can also be used to hold just about any other pocket tools you carry with you, like your lighter or mini pocket knife. We also provide a chain with every wallet that can act as a standard wallet chain, or be worn around your neck, proudly displaying your custom faceplate and turning your Gadget Wallet 3.0 into one badass necklace!
The customization never ends with the MGear Gadget Wallet 3.0, making it a must-give this holiday season.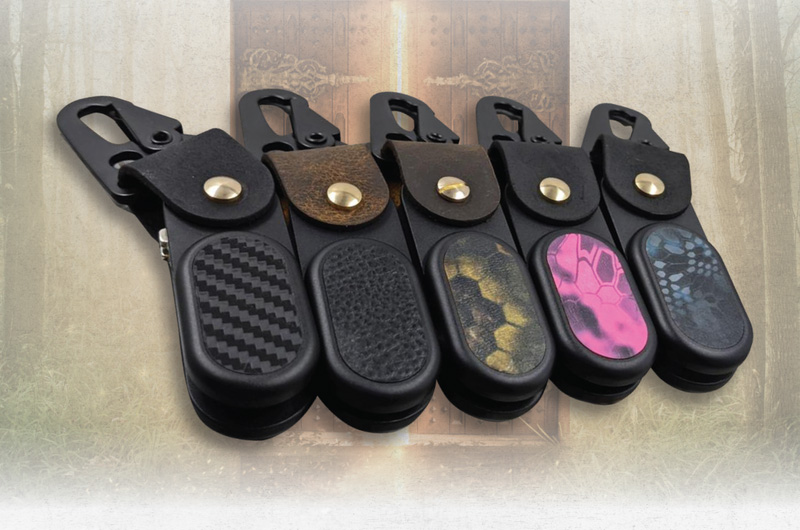 Keys can be such a pain point in everyday life. Literally! Stop your keys from waging war against you in your pocket or help a friend kiss their cluttered keyring goodbye with our MagNetic EDC Key Holder. With how simple it is to add or swap keys, it's easy to forget just how sturdy this EDC Key Holder is. The anodized aluminum body is secured by brass hardware and incredibly strong neodymium magnets, so you can rest assured your keys aren't going anywhere.
On top of that, the steel carabiner easily and securely hooks onto belt loops or backpacks, and the inserts come in 5 colour options so there's something for everyone. Add a personalized engraving or logo to really knock this gift out of the park!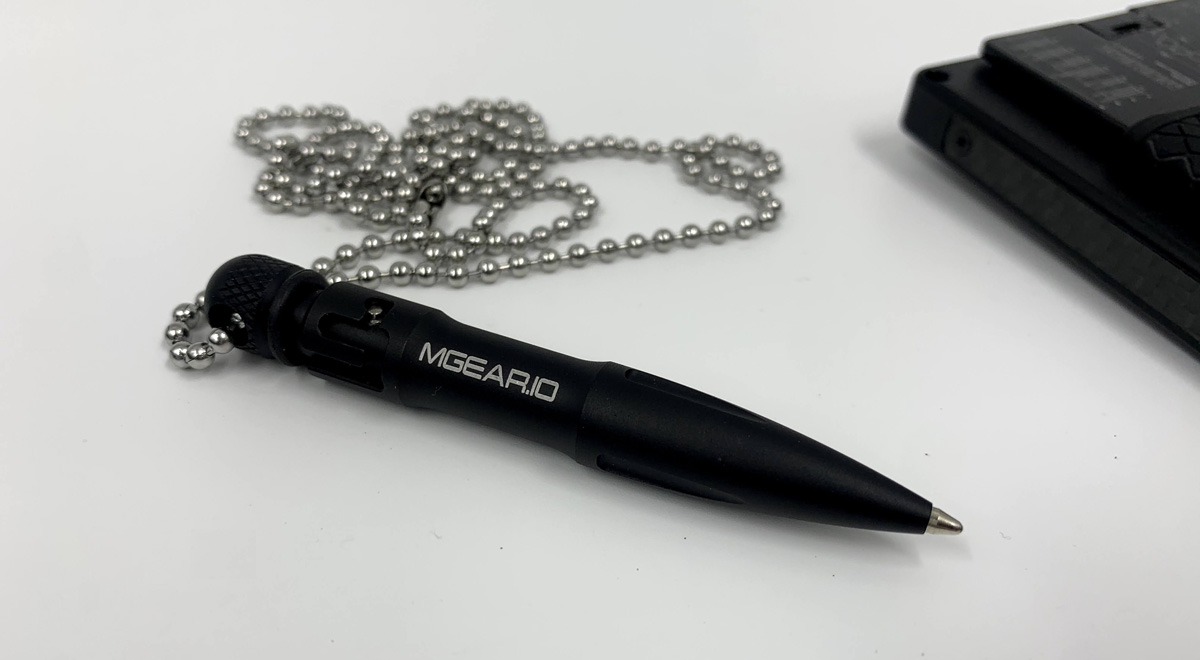 An EDC essential, the MGear Bolt Action Mini Pen is locked, loaded, and always ready for use. Don't let its stature fool you, this isn't some forgettable, no name pen. It's aluminum body construction means it's up for whatever you throw at it, whether that means tucked in your backpack, pocket, or attached to your Gadget Wallet 3.0. Order this alongside a couple of our ink cartridge refills, and you can ensure its recipient will never be burdened by the woes of a dead pen again!
Sometimes pocket space is limited, not to worry. Every Bolt Action Mini Pen comes with a chain and keyring, so you can easily carry it around your neck, on your keys, or attach it to your backpack. It packs a punch, and fits in the palm of your hand, making it the perfect stocking stuffer for the holidays.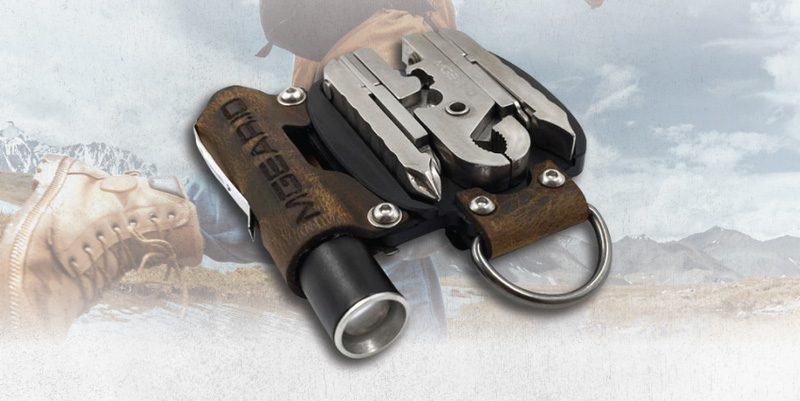 The perfect companion for the handy people in your life, the MGear Belt Gadget turns any belt into a tactical toolkit. Featuring our 10-in-1 foldable MultiTool that is useful for anything from fixing your bicycle, to working on electrical, to cracking a cold one, these ten tools have thousands of uses.
We knew we couldn't stop at just one tool with our Belt Gadget though, we had to make it even more useful. So we added our 2000 lumen mini LED flashlight. Zoomable and waterproof, this flashlight can be used for lighting up whatever tight spots need to be worked on, like peeking behind the furnace or under the hood of your car.
Both tools sit snugly in the leather holster when not in use, which is available in your choice of brown or black finish, making this gift just as stylish and it is useful.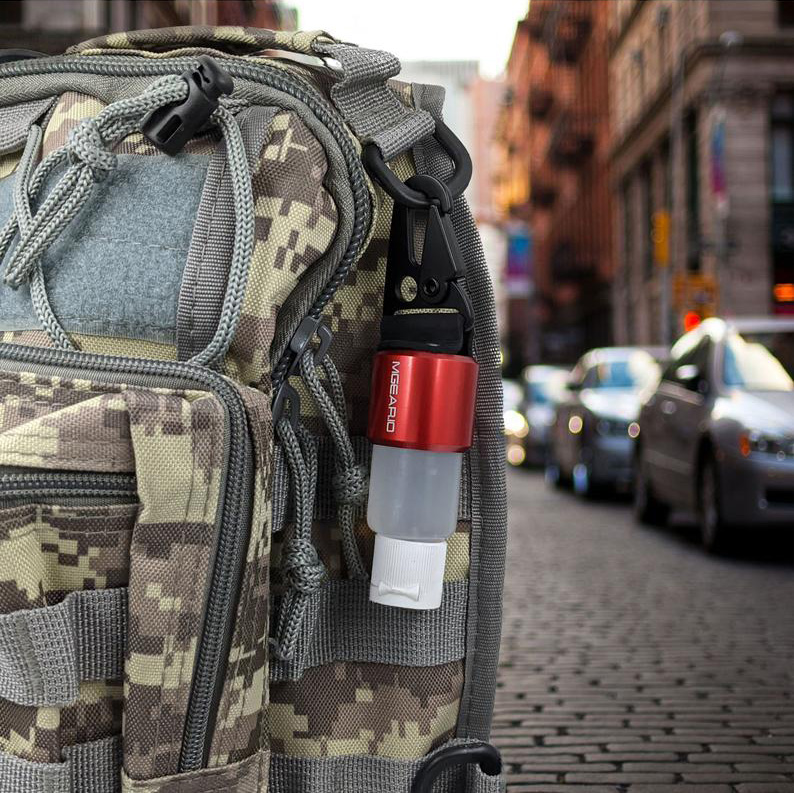 This personal Mini Bottle and Holder duo is the perfect pair for the daily grind. Maybe you know someone who travels for work a lot and could use a personal supply of hand sanitizer. Or maybe it's a friend who camps a lot and needs a small condiment bottle they can fit in their pack. Whatever the case, fill the 20ml thermoplastic bottle with whatever you need, fit it securely into the magnetic aluminum base, and you're ready to rock!
Conveniently keeping whatever you need on hand, the Tyzer's stainless steel clip attaches easily to your pack, belt loop, or Belt Gadget D-ring. This useful EDC is a great stocking stuffer or last-minute gift that won't disappoint!