The World's Most Customizable Wallet
What's up Gadgetero! We've been covering our Gadget Wallet 3.0 a lot lately and for good reason. It was designed to be the world's most innovative and customizable wallet, and that's worth talking about! What makes the Gadget Wallet 3.0 truly unique is that you can customize its look by selecting different materials and colors, personalize it with your own image or custom text… and you can even add several practical tools to it.
If you've been thinking about snagging one of these bad boys for yourself, are looking for an awesome gift for an upcoming birthday or holiday, or just want to know more about it, then you've come to the right place!
In this article, we'll cover:
What exactly is the Gadget Wallet 3.0?
Who was it built for?
Who would love it as a gift?
What sets it apart from other wallets?
What is this awesome, stylish, multi-functional wallet?
Made from solid aluminum and 100% carbon fiber, the Gadget Wallet 3.0 is an innovative wallet designed to rethink how people use traditional wallets. It was made to make everyday life better. It isn't just for anyone, it's for everyone. If you're a frequent explorer of the outdoors, it can be your tactical toolkit. If you're a biker, it can be your slim and sleek sidekick for the open road. But it's also perfect for people who don't like the bulk and discomfort of a regular wallet in their pocket all day. For people who want something that will never go out of style because it can change with you. The Gadget Wallet 3.0 was made to be an upgrade on the ordinary. Made equally for full-blown survivalists and urban explorers, it's meant to be a part of an extraordinary life.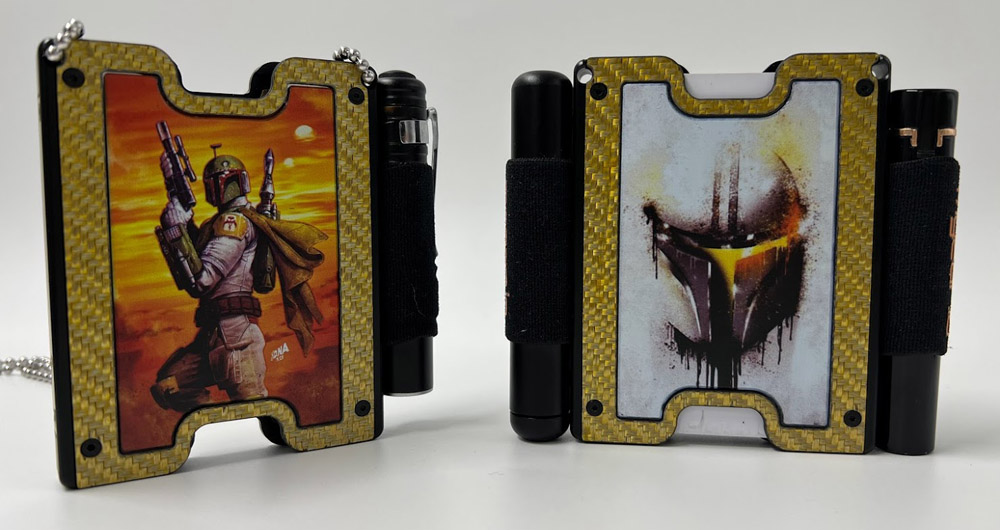 The Perfect Gift For Men
If anybody came to mind while reading the above paragraph (yourself included!) this wallet is definitely the gift for them. Maybe you're struggling to think of what to get dad for Father's Day or need an unforgettable gift idea for your buddy's birthday. The Gadget Wallet 3.0 has got you covered! The great thing about gifting a wallet is that it's a thoughtful gift people wouldn't ordinarily treat themselves to. The better thing about gifting a Gadget Wallet 3.0 is that you can customize it to the person lucky enough to receive it. So you don't need to go looking for an awesome gift, you can build it for them yourself.
Sometimes it's hard to find a design that really speaks to you. That's why we took personalization to the next level to ensure this wallet is custom-tailored to each owner. Available in carbon fiber black or silver, you can choose from our pre-made designs for the front and back plates. Or take it a step further by adding your favorite image, text, or brand logo to the front plate. And if all this wasn't enough, you can also personalize the side panels with up to 20 characters of custom text.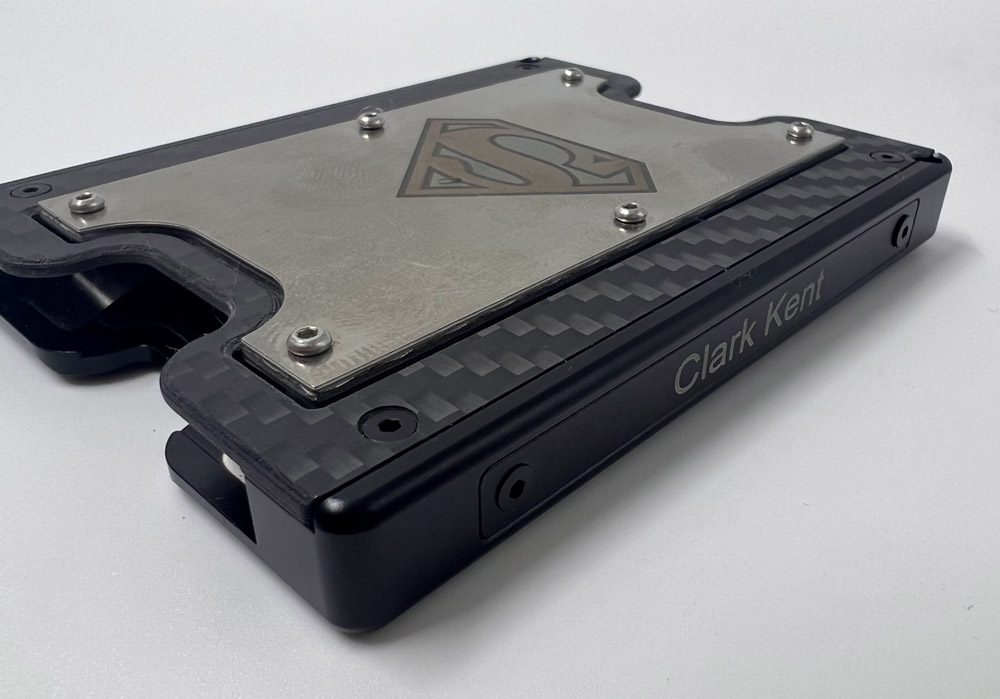 Did we mention those plates are also swappable? So you can personalize more than one and swap them out as you need. Every Gadget Wallet 3.0 comes with a high strength elastic band on the back by default, but don't worry, you can swap it out with a second custom image plate. So you could have a wallet with a personal monogram on the front and your favorite quote on the back. Or your favorite team's logo during playoffs. The options are truly endless.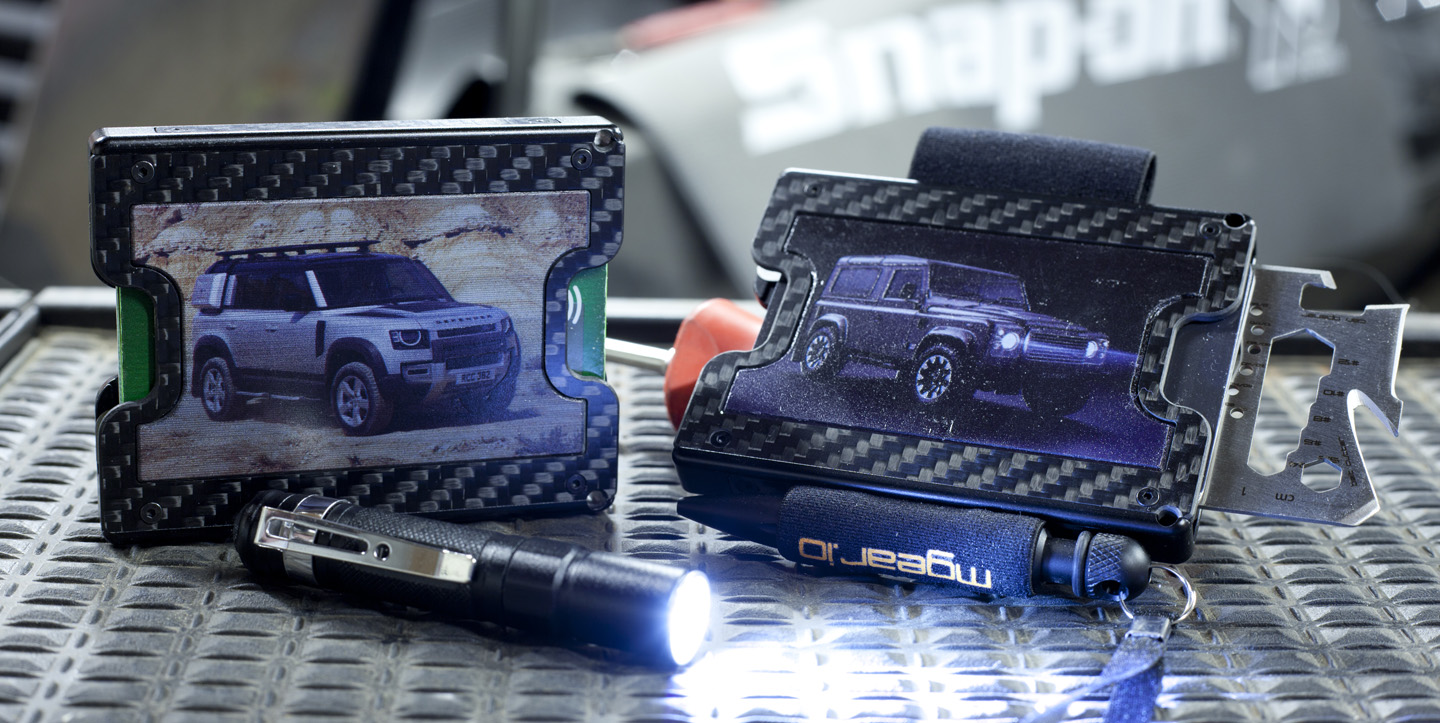 Wallet with Flashlight, Pen and More!
Another thing that makes this wallet unlike any other are the accessories that you can add to the sides of the wallet. Currently, you can choose one of three accessories:
Mini EDC Bolt Action Pen
Mini LED Flashlight
Storage Tube
And of course, the bands for the sidekick accessories are easy to attach or detach as necessary. This allows you to go entirely minimal with no accessories, have just one, or go fully loaded with one on either side.
Stoked about it already? We're not done yet! The wallet becomes even more tactical with the inner accessories. Our 18-in-1 multi-tool that gives you a whole toolkit in your pocket. Going camping soon? Our complimentary Fresnel Lens card acts as both a magnifying glass and a fire starter. Or get our ultraslim USB card that holds 32GB so you're never without your most important files at the next big meeting. See the full selection of inner accessories while building yours!
So if you think you're ready to upgrade your wallet to extraordinary, know someone who this wallet would be the perfect gift for, or maybe you've just been on the fence about if this is right for you, head over to our Wallet Builder. You'll get to build out your brand new Gadget Wallet 3.0 and customize it entirely to your needs.
If you'd like to see step-by-step how to build your custom wallet, be sure to check out our Full Guide to Building Your MGear Gadget Wallet 3.0.