This is the world's best personalized wallet
If you're looking for the coolest, most useful wallet in the Milky Way, you've come to the right place! The Gadget Wallet 3.0 offers remarkable personalization options and a vast number of practical add-on accessories. But perhaps the most exciting thing about this wallet is that you can change its look in seconds flat thanks to its swappable front plate. You can also add or remove its accessories whenever you like, depending on whether your day calls for a minimalist wallet or a wallet loaded with useful gadgets.
The Gadget Wallet 3.0 makes an amazing birthday or holiday gift, especially when you personalize it with a name, message, image or a logo. Made from high-strength solid aluminum, metal, and carbon fiber, it's the perfect rough-and-tumble gift for the gadget lover, handyman, outdoorsman, motorhead, hobbyist, you name it! A gift that can mark any and all of life's milestones, from graduating highschool to celebrating retirement, this wallet's design goes above the call of duty to give you full freedom on look, feel, and functionality. All without compromising its compact and lightweight design.
As you can tell, the Gadget Wallet 3.0 is so much more than just a card holder. Need a flashlight while out exploring after dark? Not a problem, the Gadget Wallet 3.0 can be equipped with one. How about a survival multi-tool while camping or hiking? Yep, you can add one inside. What about a hex wrench for your bike while on the open road? Our wallet's got that too. With the Gadget Wallet 3.0, you'll never be caught unprepared again.
If you're already fidgeting in your seat with excitement, jump over to our Wallet Builder now and start building your wallet! If you'd like to know more, let us walk you through the building process step-by-step.
Building and Personalizing Your One-of-a-Kind Wallet
Our Wallet Builder was designed to be fun and simple to use! It allows you to see how your custom wallet looks as you choose the different finish options and add-on accessories.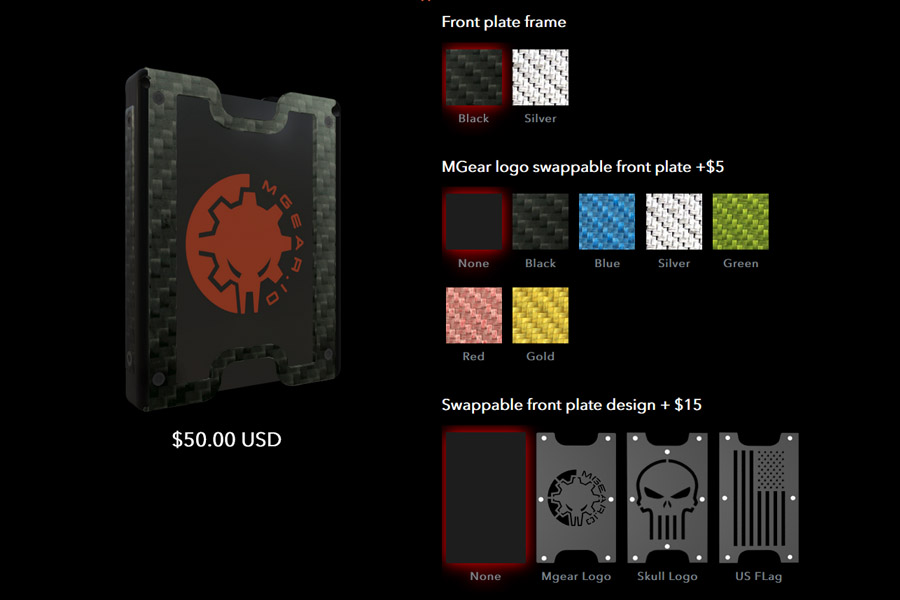 Step #1: Customize the look of your wallet.
You'll start by choosing a front plate frame that attaches to our unique wallet body. Here you have a choice between carbon fiber black or silver.
Next, you'll choose the design of the front plate itself. Here you have a choice between a carbon fiber plate or a metal plate. The carbon fiber plate is available in 6 colors. The metal plate comes in 3 designs (MGear logo, Skull logo and US Flag) and you can also choose the finish of the metal (brass, stainless steel and gunmetal). If you choose the metal plate, you'll also get to choose 1 of 6 carbon fiber color backgrounds.
At this point, you'll get a chance to truly personalize your wallet. There are two elements of the wallet you can personalize: you can add text to the side panels of the wallet AND a custom image to the front plate.
Many of our customers add their name to the side panels or the name of the lucky person getting the wallet as a gift. Alternatively you can also add a few words to the side panel that have a special meaning to you.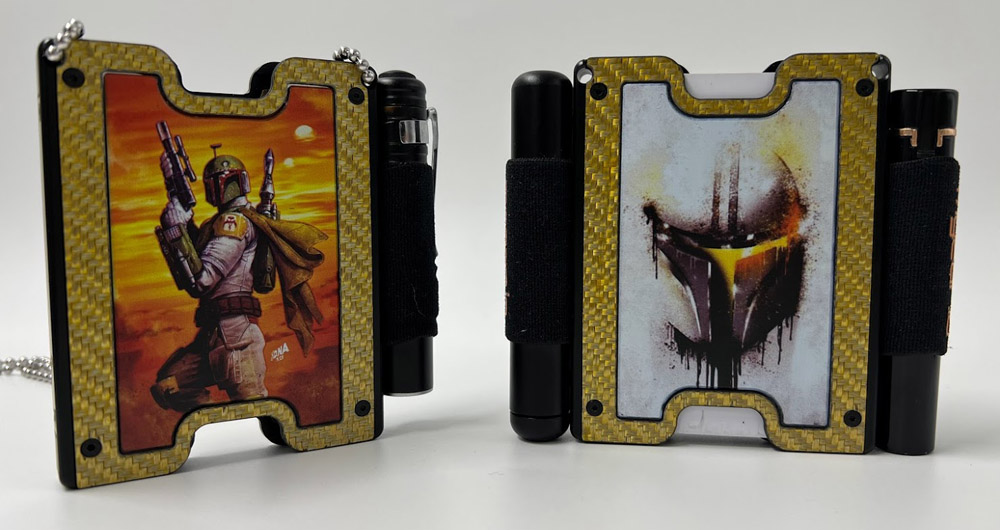 Now comes perhaps the funnest part of personalizing your wallet – you get to choose a custom image for the front plate. And you get to choose whether you'd like it printed in color on a carbon fiber plate or engraved on a stainless steel plate. This is an amazing opportunity to express your passion for a specific hobby or for your company. Your only limit is your imagination! Our customers send us images of superheroes, video game characters, cars, motorcycles, their pets, company logos and much more.
The really cool thing about the front plates is that they can be swapped with other front plate designs effortlessly, whenever you desire, without any tools. So don't feel like once you pick one you're stuck with it. Order your wallet with a few different front plates and change them depending on your mood or where you're heading. Going to a football game? Put on your favorite NFL face plate. Heading to a work meeting? Put on your company logo face plate. Taking care of some errands? Bring your Spiderman front plate along for the ride.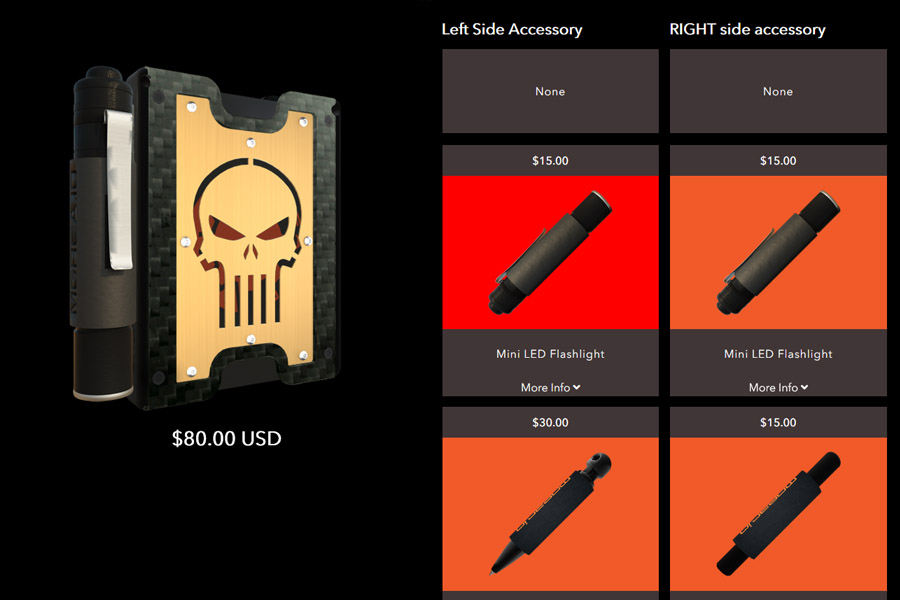 Step #2: Choose accessories that attach to the side of your wallet.
This is your chance to equip your wallet with some useful tools that will make you wonder how you ever survived without them. You can add up to 2 accessories to the edges of your wallet and you have 3 accessories to choose from: an LED flashlight, a pen or a storage tube.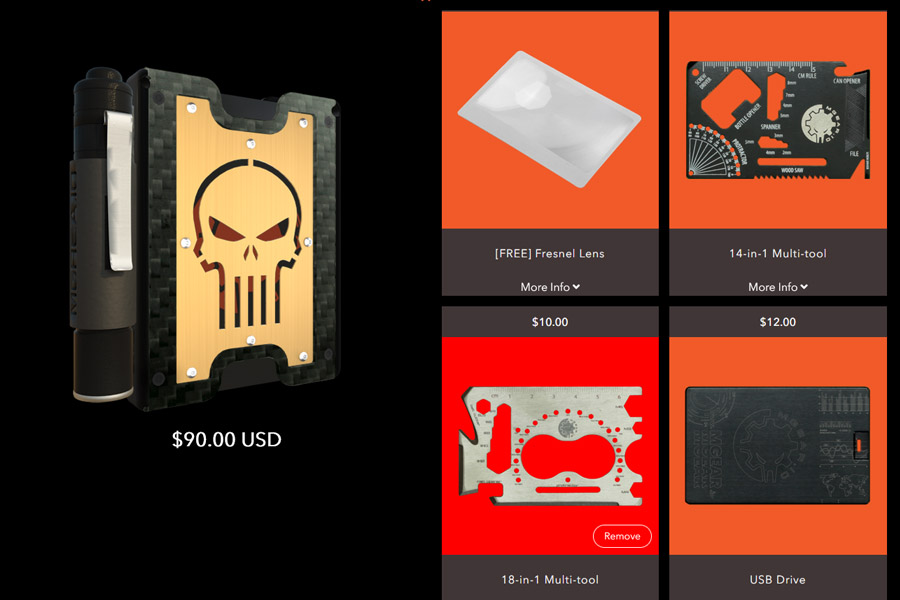 Step #3: Choose accessories that fit inside your wallet.
In this final step, you'll have the chance to choose a few credit card sized accessories that go right inside your wallet. Our current selection includes: an RFID / survival card, an RFID / measuring & conversion card, a Fresnel lens, a 14-in-1 multi-tool, an 18-in-1 multi-tool and a 32 GB USB drive. Just like our side accessories, there's no limit on how many of these you stock up on. Even if you don't plan on having them all in your wallet at once, we recommend you order the ones you think you'll use. That way you can tailor your wallet to whatever your day can throw at you.
Congratulations! Now you know all the things your wallet could be. So why not build one out and turn it into a reality?