We've taken some very exciting steps here at MGear over the past few months and today we are thrilled to share with you the next chapter of our story.  We recently shared our origin story on our website [check it out here], and how MGear has become the company it is today.  We're so thankful to you, our supporters and subscribers, for our success.  And because of you, we continue to evolve and grow.  As more people join us on our journey and get excited about our innovative products, we knew it was time for us to expand!
MGear's Next Evolution
We're excited to announce the next evolution of MGear.  In addition to our existing manufacturing facility in North York, we decided to build a mobile assembly facility/shop in the hip Junction neighborhood in Toronto.  Except this isn't just any old storefront – but you didn't expect us to build something conventional, did you? That just wouldn't be the MGear way!
Our new shop will be compact, customized, and totally geared up, just like our products.  As a foundation for this new shop, we've taken a shipping container and given it new life.  We've completely remodeled it, and added glass doors and windows so that it can function as a shop.  Not only will our visitors be able to walk into the container and design their own gear on the spot, but it gives us the capability to pick up the whole assembly and take it to trade shows, and set it up as a pop-up store in a city near you.  How cool is that?
We're starting with just one container, but we have big plans for the future.  These containers are completely modular, meaning that multiple units can be connected and even stacked vertically.  Can you imagine a two-story MGear container marketplace with a giant MGear logo spinning on the roof, where all of our gear is available to be customized to your unique specifications?  That's our master plan – well… at least our big vision for the future!
Our New Digs – Joining a New Community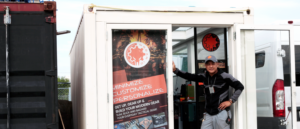 The shipping container isn't the only unconventional element of our new shop.  We're going to be in an unusual outdoor space that we think suits our products perfectly.
The spot we've picked to call home is a strip of land on Cawthra Ave, near Keele St. and St. Clair Ave. West.  It sat abandoned for many years, sandwiched between commercial businesses on one side and train tracks on the other.  That is until six years ago when a couple of small businesses and independent makers reclaimed the unused land in the best possible way.
Entrepreneurs and creative minds began to set their shops up in shipping containers and trailers on the land, attracting like-minded individuals and businesses to the area.  Today, you can find everything here, from industrial designers, makers, artisans, builders, and everything in between.  And now you can also find our innovative and customizable MGear shop.
We feel like we've found our people.  And honestly, we can't think of a better community for our company.
Here's an additional fun connection to the Junction that we've thought about: we're thinking of our new MGear shop as a Phoenix rising from the ashes of the historic Junction neighborhood. For those of you who don't know, the Phoenix is an immortal bird from Greek mythology that inspired the design of our MGear Agent badge.
The Junction
Our little shipping container village is just one small part of a larger Toronto neighborhood, known as the Junction.  Here at MGear, we're excited to be part of the Junction's lively and vibrant community.  We chose this area purposefully because it matches how we've built ourselves as a company.  It's a continually growing neighborhood in Toronto, with a deeply rooted history as a manufacturing hub.
The Junction gets its name from its purpose as a connection, sitting at the intersection of four railway lines.  Originally the site of the Carlton Race Course where the first Queen's Plate was run, it began to transform after the arrival of the railways in the late 1870s.  A small village sprung up surrounding the train yards, and the West Toronto Junction was born.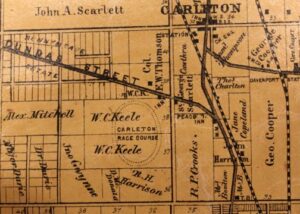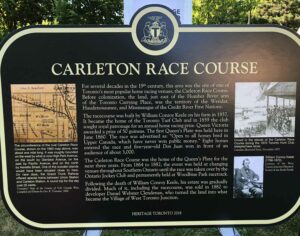 Canadian Pacific (CP) built West Toronto Station in 1885, which had to be rebuilt twice more in 1898 and 1911 to accommodate the growing community.  In 1907, Grand Trunk Railway built a station that brought in trains from London, Guelph, and Kitchener. The crossed lines running through the area, also known as the West Toronto Diamond, still serve GO Transit, UP Express, and Via Rail to this day.
A variety of foundries, mills, meat processing facilities, and factories began to move in, and recognized Toronto companies such as Canada Packers, Campbell Milling Company, and Heintzman piano company all called the Junction home.  This industrial expansion attracted immigrants, who worked in the factories to give themselves and their families better opportunities.
Like many railway towns, the junction has had its ups and downs over the years.  Economic booms helped the area thrive, but there were also periods of recession where factories were forced to close.  In 1904, local residents voted to ban the sale of alcohol until 1998, effectively killing bars and taverns in the area.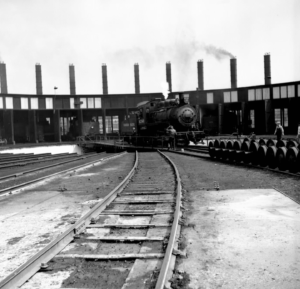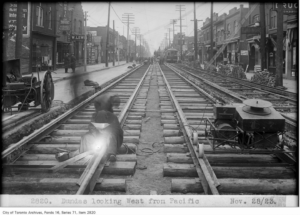 As railway ridership declined and the railway stations closed, the area was in desperate need of revitalization.  Local small businesses banded together to breathe new life into the neighborhood.  The ban on alcohol was lifted 97 years after it was first put in place, allowing eateries and distilleries to flourish.
Today, the Junction is being redeveloped for housing, retail, and hospitality.  It's seen a shift from its commercial roots to a consumer-friendly district, which still maintains all of the history and charm of its former days.  Whether you want to catch some live music at a trendy venue, grab a cup of joe at a small café, or enjoy a meal on a restaurant patio, the Junction has you covered.
Cawthra Street, our new home which for decades was home to commercial businesses, began to attract consumer businesses about 10 years ago.  The street is now home to some great businesses like Nickel 9 Distillery, People's Pint Brewery, Subtext Coffee, Sweet Flour Bake Shop, Stereo Coffee Roasters, and more. If you've never been on this street before, we invite you to enjoy a cold beverage on one of the patios! The MGear shop isn't open to the public just yet… but we are gearing up to make it so, very soon 🙂
Are you ready for what's next?
We're thrilled to be joining our new neighbors as we continue on our epic, yet-to-be-written journey of MGear.  Continue to follow our newsletter as we take you along for the ride!